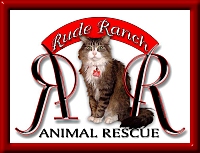 Sponsor A Long Term Resident.... Help Rude Ranch Take Care of the Animals No One Wants
Feral and Abused Cats: Many of these cats were brought to Rude Ranch from city parks and alleys where they have been shot at, chased and tortured.

Click on the picture below to sponsor one of these cats.
Take me Back to Special Medical Needs Cats!
< Previous Page <





PuffPuff
Corey Henry
Washington, DC


BlueBlue
Arnold Brandenburg
Annapolis, MD


Gem
Please Sponsor Me!


Hera
Linda Hinebaugh
Great Falls, MT





Cordelia
Michelle & Jason Lonchar
Annapolis, MD


Aphrodite
In Loving Memory
of Tizzy
Greg Swiatowski
Severna Park, MD


Wilma
Please Sponsor Me!


Athena
Mary Ann Anderson
Brandywine, MD





Sandy
Karen Hepburn
Annapolis, MD


Snoopy
Please Sponsor Me!


BW
In Memory of Clover
By Mary Consugar &
Ellen Joyce
Baltimore, MD


Molly
Mark Hensman
Ellicott City, MD


Simmi
Please Sponsor Me!


Johnnie
In Loving Memory
of Joan Beall
By Bruce Beall
Riva, MD


Gail
Clare Badner
Exton, PA


Leo
Amy Imirie
Shady Side, MD





JoJo
Myra Keeler
Bowie, MD



Sassy
Jenn Culler
Churchton, MD



Twix
Michael Rains
Davidsonville, MD


Blackbeard
In Memory of Stacey Lummus
By Dorothy Collison





Taz
Diana Markel
Annnapolis, MD


Xander
Please Sponsor Me!


Mystic
Chris Nazelrod
Baltimore, MD


Faith
Vincent DiMarco
Alexandria, VA



Soot
Michelle & Jason Lonchar
Annapolis, MD


April
In Loving Memory of Cleopatra
By Nancy Garcia


Sasha
Please Sponsor Me!



Molly
Please Sponsor Me!





Mary
Lilliya Ganeeva
Alexandria, VA

>


Lenny
John & Bonnie Colgan
Lothian, MD

>


Patches
Kathy Reading
Eldersburg, MD


Tiny
Please Sponsor Me!!





Quiver
In Loving Memory of Drew
John & Sarah Sequin


Jake
In Loving Memory of Cody Fogle
By Dana Fogle


Custer
Amy Levey,
Washington, DC



Ziggy
Marcy Wolford
Chambersburg, PA


Nutmeg
In Honor Of
Larrisa Harrison
By Adam Fox


Zorro
Michelle Astrin
Owings Mills, MD


Chilli Pepper
Please Sponsor Me!


Lenny
Jane & L.F. Beard
Annapolis, MD



Custer
Christopher & Nicole Ashe
Hampstead, MD



Bobby Sixkiller
Barb Britt
Millersville, MD


BL
Larrisa Harrison
Durham, NC


Wilma
Marilyn Greenhouse
Germantown, MD


< Previous Page <