A Cat's Prayer

I ask for the privilege of not being born.... not to be born until
you can assure me of a home and a master to protect me, and the
right to live as long as I am physically able to enjoy life ... not to be born
until my body is precious and men have ceased to exploit it because
it is cheap and plentiful.

~Author Unknown




The statistics are alarming -- 70,000 puppies and kittens are born every day -- over 25 million animals a year. Even more alarming, 15 - 17 million of these animals are euthanized in animal shelters each year. Why? Because irresponsible pet owners feel that its no big deal if Fluffy or Fido has just one litter of kittens. After all, they will just take the offspring to the local shelter, and be done with it. The problem with this logic is that there are already too many animals at the animal shelter. In addition to there being too many animals, there is often not enough help at the shelter to care for these animals. Shelter workers are often forced to "put down" puppies and kittens that are perfectly healthy. This is a tragic waste of life.

The easiest way to combat the problems of pet overpopulation is to have your pet spayed or neutered. Encourage your friends and neighbors to also have their pets neutered. In addition to preventing litters of unwanted puppies and kittens, you will also be reducing the risk of several different types of cancer that can occur in un-neutered pets.

Still not convinced for the urgent need for spaying and neutering? Go here.

The following links contain valuable information about pet over population and what some people are trying to do about it.

Warning Some pictures and articles are quite graphic



The Miracle of Life.....
"Come quick, come quick," their mother said "The time is getting near."
She feeles that when the kittens come the children should be here.
She told them that a big orange Tom took "Kitty" as his wife.
"Its wonderful, a gift from God, the miracle of life."
At half a year young "Kitty" feels too painful and too scared
to appreciate six miracles, blind-eyed and yellow haired.
But she knows these lives depend on her and nature tells her how
and as she cleans them, children ask "Mom can we go now?"
but now and then for six more weeks the children visit her
to play with six new magic toys made of life and fur.
The six weeks pass, the newness gone and new homes yet unfound,
Mom bundles up six miracles and takes them to the pound,
Where lovingly, with gently hands and no tears left to cry,
the shelter workers kiss them once and take them off to die.
And "Momma Kitty" now she's called, mourns her loss and then,
she's put outside, and of course, she's pregnant once again.
Dad tells "kitty" STOP THIS NOW" or you won't live here long!
But deep inside of Momma Cat, this time something's wrong.
Too young, too small, too often bred, now nature's gone awry,
Momma kitty feels it too, and she crawls off to die..
She too is freed from this cruel world, and from her time of strife.
How harsh the truth, how high the price, the "Miracle of Life?"
by Barry Taylor, DVM






This site provides information on low cost spay / neuters in the Virginia, Maryland and Washington DC area.





This nationwide site provides information on low cost spay/neuters.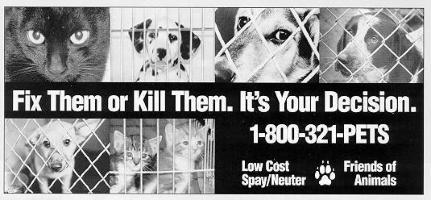 This site will provide you with information about low-cost spay/neuters.





One of the Busiest Spay/Neuter Clinics in the USA.





A heartbreaking story about what happened to one little cat who had no where to go.


Lots of good information about spaying and neutering feral cats.



The Neutress of the Night takes a humorous look at spay/neuter.

This article shows the harsh reality of what happens at an animal shelter.




Please have us neutered and spayed