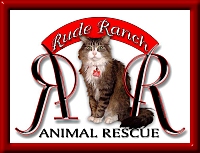 Sponsor A Long Term Resident....
Help Rude Ranch Take Care of the Animals No One Wants
Special Medical Needs Cats: Many of these cats would love to have a home of their own. However, due to physical injuries or illness, they either require special accomodations or medicine.

Click on the picture below to sponsor one of these cats.
Take me Back to Feral and Abused Cats!

Carey
Please Sponsor Me!



Clooney
Please Sponsor Me!


Charlotte
Please Sponsor Me!



Vasa
The Eikenbergs
Savage, MD


Gabby
Pam & David Bush
Lothian, MD


Whiskee
Val Garcia
Falls Church, VA


Casi
Deanna Johns
Stevensonville, MD


Itso
Maria & Patrick Cantwell
Upper Marlbaro, MD





Charlotte
Joy Groshon
Owings, MD



Big B
John Powers
Gambrills, MD


Sophie
Casey Hartman
Annapolis, MD


Pewter
Marie Hensley
Churchton, MD





Stewie
Unni Jensen
Rockville, MD


Buffinator
Barbara Watson
Springfield, VA



Maverick
Karen Warhurst
Cheasapeake Beach, MD


Tator
India Bell Davin
Edgewater, MD





Harry
Corey Henry
Washington, DC


Boots
Linda Risden
Churchton, MD



Blackbeard
Doreen LaFone
Shady Side, MD


Tommy
Elizabeth Rutherford
Oakton, VA





Silesia
Jeanette & Scott Stangle
Arnold, MD



Bubba
Janet Rudolph
Pikesville, MD


Itso
Please Sponsor Me!


Sugar
Please Sponsor Me!






Noah
Arnold Brandenburg
Annapolis, MD




Anna
Jenna Smith
Bowie, MD



Morris
Jan Sinnot
Silver Spring, MD


Gabby
Amy Levey
Washington, DC





Morris the II
Monica Brown
Severna Park, MD


Lucy
I'm Sponsored!
Bowie, MD


Princess
In Loving Memory of Zack
by Ann and Bill




Big Boy II
Bonnie J Pearson, DDS
Petersburg, VA





Psycho
Jane Wright-Bielawski
Stafford, VA


Whiskey
In Loving Memory of Patches
By Ann Weidemann &
Bill Windsor


Pattas
Nicole Weiss
Annapolis,MD


Anna
John Costellano
Annapolis, MD





Betty
Justin Todd
Ann Arbor, MI


Stewie
Amy Imirie
Shady Side, MD


Noir
In Honor of
Larisa Harrison
by Adam Fox


Handsome
Amy Levey
Washington, DC





Wally
Charles & Gabrielle Bachman
Crofton, MD



Clooney
Shannon Smith
Bowie, MD


Silesia
Please Sponsor Me!



Greyson
In Honor of
Toby Malina by
Nicole Malina